In 2013, the Children's Aid Foundation was fortunate to receive an anonymous donation from an individual looking to improve the lives of children and youth across Canada. Named in honour of Ted and Loretta Rogers, this 5 year pilot project was established to assist children transition to Foster Care by providing them with "comfort packs".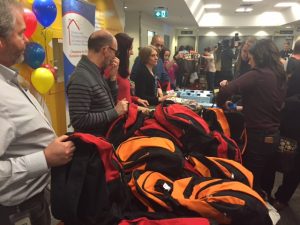 The backpacks are filled with age and cultural specific items and supplies intended to offer comfort during a confusing time. Included in the pack are items such as hygienic necessities, blankets, gift cards, journals and books. The kits are designed to offer a sense of stability during one of the most unstable times of a child's life. Each kit also comes with a card. The card is written to help the child or youth know that they are being thought of. It acknowledges the difficult journey they are taking, but shows that it's not just a small group of people that surround them but our entire community.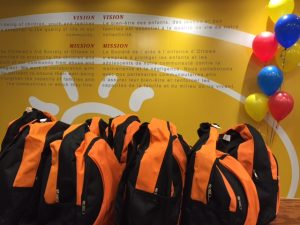 Although this program is being launched by the Children's Aid Foundation of Ottawa, it is being launched on behalf of the community at large. We are all responsible to ensure children and youth are safe and secure and we continue to do this by working together, by building partnerships and fostering new relationships. Each one of us play a part in the well-being of children and youth and by gathering here today and launching this new program together, we are one step closer to improving the lives of our communities most vulnerable.
This post is also available in: French