Think you know it all? Prove it! Get your friends together and sign up for the world's largest live trivia event, World Trivia Night 2015.
Register your team today. This exciting trivia event attracts over 1,500 local trivia enthusiasts. Putting a team together is easy: get up to 10 friends, family members, or work colleagues and register your team online today! Together, you'll answer ten rounds of ten questions to showcase just how much you really know.
Teams will compete for bragging rights, $10,000 in cash as well as awesome prizes for best costumes, and lots of raffle prizes.
Enter as a Champion Team which includes FREE team registration, VIP seating, gifts for each team member, a delicious food platter and draws for team prizes. In return, your team commits to raising a minimum of $1,000 in donations for the kids. Regular team registration is only $400.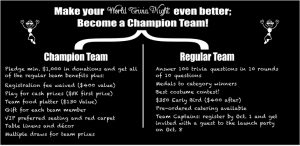 Proceeds from this event directly benefit the children and youth who are in the care of the Children's Aid Society of Ottawa (CASO) through programs such as our Dare to Dream Bursary Program. Over the last 20 years, Children's Aid Foundation of Ottawa (CAFO) has provided financial support to over 750 young people in their pursuit of achieving a post-secondary education and in turn helping break the cycle of abuse and neglect in future generations.
Here's where we've made a difference:
I am writing to you with my sincerest thanks for granting me a Dare to Dream bursary. While growing up in the care of the Children's Aid Society of Ottawa, I never thought in a million years that I would become a university student and actually succeed. I could not do it alone and I know that with the support from outstanding donors like you it is something that I will forever cherish and be grateful for!
– Dare to Dream Bursary Recipient with a Dream

This post is also available in: French